About Dimitris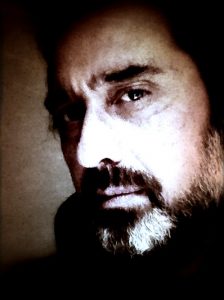 Dimitris picked up the guitar at the age of sixteen and only one year later joined the Rockband Five on earth as Lead guitarist and later also Lead Vocalist after the original Lead singer left the band.
These first experiences in the world of live music got him ready for the "real thing" and soon he found himself playing with top musicians as Yannis Vassalos, Dimitris Zannis and Nikos Romas on the stages of Athen´s live club scene.
In 1989 Dimitris moved from Athens to Hamburg, Germany where he studied music and joined his first a-capella-band named Just4.
After twelve months he and bandmate Helge Hellberg left the band to found Five Live.
This band with the original lineup Helge Hellberg, Regy Clasen, Conny Stahl, Leo Belka and Dimitris Liatsos was later to become one of the most successful European a-capella bands with two albums and seven years of touring across Germany and Europe.
In 1996 Five Live was invited to the U.S. to perform at the New Jersey´s East Coast Acapella Summit as the only European band and received the Contemporary a-capella society´s Casa a cappella Award.
In 1997 Five Live disbanded after the tragic loss of band member Conny Stahl who died from bloodcancer.
Dimitris, still drawn to the magic of "vocal only music" went on to produce his first Solo Album Ego I Pende (Me, the five) which was released in the summer of 1999 when Sony Music found interest in the Album´s unique mixture of popular greek traditional and contemporary music as well as original compositions.
After this final a-capella-project he started working as a producer for other artists and bands whilst performing as Lead singer and guitarist of the World-Pop trio Caldera, Soul-Funk-band Soul Service and the Jazz-quintet  Jazz seasons.
Chor conductor for the a cappella choir Kiss from a Rose for about 14 years.
Since 1994, Vocal Coach in Hamburg.
Music production and studio work led to his latest passion for film scoring which is dominating his schedule since 2011.
With fellow saxophonist and percussionist Kurt Buschmann he established PegaSus² which specialized in composition and production of movie scores.
Ego I Pende - One Man A Cappella Project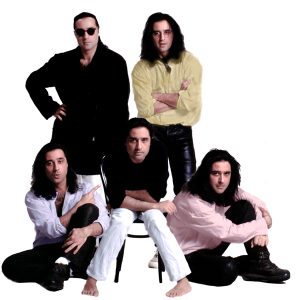 After FIVE LIVE disbanded, Dimitris, still drawn to the magic of "vocal only music" went on to produce his first Solo Album "Ego I pende" (Me, the five) which was released in the summer of 1999 when Sony Music found interest in the Album´s unique mixture of popular greek traditional and contemporary music as well as original compositions.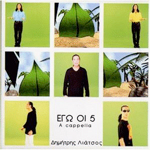 Dimitris Liatsos – "Ego I pende"
1999
(Sony Music Entertainment Greece)
Five Live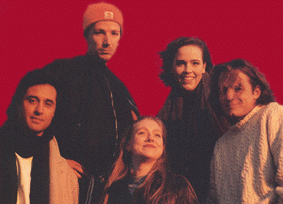 Dimitris Liatsos – Leo Belka – Regy Clasen – Conny Stahl / Stefie Hundertmark – Helge Hellberg
FIVE LIVE`s story begins probably like the beginning of many other a cappella groups. The memberes responded to a bulletin board notice in a College of Music in Hamburg.
Starting off with their own unique coverversions of a variety of top 60`s/ 70`s/ 80`s and 90`s hits, the group began building up a repertoire that was to later include contemporary as well as well-known jazz standards and eventually their own original compositions.
Regy, Leo, Dimitris, Conny and Helge, began their performances in small concert halls and local club/cafes.
They started to get more recognition when they were featured in a revue of a cappella groups called Voice Pop, held at the University in Hamburg.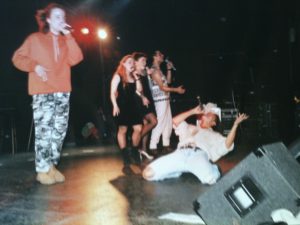 Among the 6 or 7 groups presented at this event, which included a few professional groups, FIVE LIVE were the highlight of the evening, stealing the show and getting called back on stage five times by an enthusastic audience who refused to let them leave the stage. The final of their act that evening was to divide the audience into three parts and have them sing a three-part harmony with them on a song called "Pata Pata". Slowly word got around about FIVE LIVE`s performance in the Voice Pop revue- their charismatic stage presence, the two angelic female voices in the group, and their somewhat non-academic approach o a cappella. As one member expressed it a cappella wasn`t exactly the direction he wanted to take for himself musically, but being in FIVE LIVE felt like the right thing to do at the time.
Later the record label Polydor released and a Cappella Sampler called Voice Pop, engaging some of the performers at this event to record 2 or 3 tracks. FIVE LIVE recorded "The lion sleeps tonight" and "Staying alive".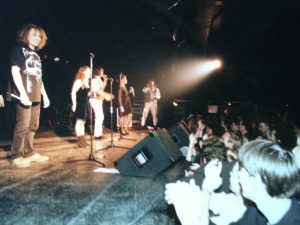 Another smaller label offered the group another one CD -deal and recorded one of their live performances at a place called "Cafe im Buch", which was released under the title Five Live – Live at Cafe im Buch. Relying nearly totally on word of mouth and little or no publicity at all, the strength of heir performances created kind of underground following for the group and they soon became one of Hamburg`s secret club tips. Eventually, when when their audience started growing and couldn´t be contained in small clubs any longer, they were booked into Hamburg`s largest and most well-known music clubs: GrosseFreiheit.
This performance sold out in a matter of days and it was no longer after, that they were approached by East West Records, a European Warner Music Group affiliate label and offered a major record contract. Their first Studio recording with East West was releases at around the beginning of 1996 and is titled Quintessence which included 6 original compositions.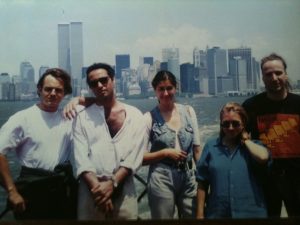 FIVE LIVE have come a long way since that Voice Pop revue and being a secret club-tip and are now quickly emerging as "Germany`s Hottest A Cappella Act".
Other international gigs brought Five Live to an international professional level.
In the summer of 1996, Five Live performed in one of the greatests a cappella festivals ( New Jersey`s East Coast a cappella summit ), bringing a powerfull european presence.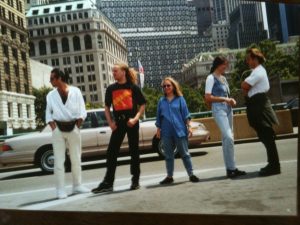 Five live got three nominations for the CARA (Contemporary a cappella Awards) of 1997.
Steffie Hundertmark joined the band in the summer of 1996, to fill Conny Stahl`s place, who started the fight against bloodcancer since the begining of that year.
Conny died on the 9th of June 1997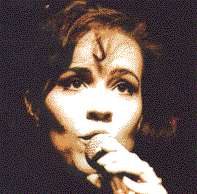 Mediathek
One Man a Cappella "Ego I Pende" Medley
One Man a Cappella "Hungarian Tanz No 5"
CDs
Albums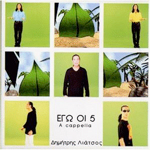 Dimitris Liatsos – "Ego I pende"
1999
(Sony Music Entertainment Greece)
EPC 494657-2
Five Live – "Quintessence"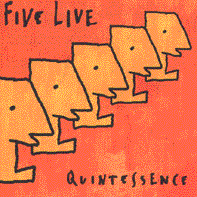 1996
eastwest records
(LC 9157)
Five Live – "Live"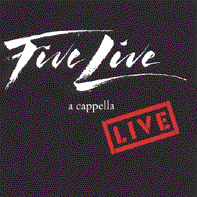 1993
voice pop records
(LC 5272)
Singles
Five Live – "Tu was Du willst"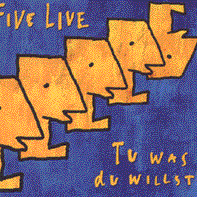 1996
eastwest records
(LC 9157)
Five Live feat. Peter Osterwald "Die Hesse komme!"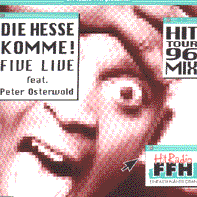 1996
Sony Music media
(LC 2604)
Compilations
Casa – "A-Capella All-Stars 1997"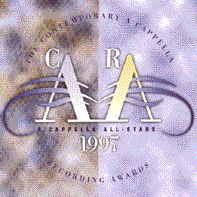 1997 U.S.A.
Primarily A Cappella- Casa
(PAC 2460)
Urban Harmony – "R&B-A-Capella"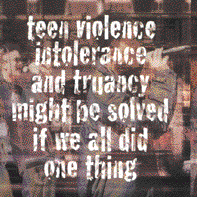 1997 U.S.A.
Urban Harmony
Hinz&Kunzt – "Künztlerpech"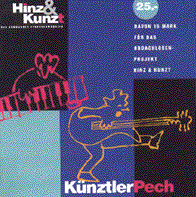 1996
Hinz&Kunzt
(RP 13069)
Voice Pop – "A-capella Sampler"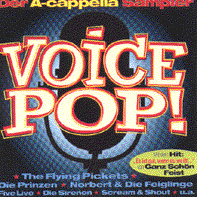 1992
Polydor
(LC 0309)
Vocal Coaching
Please visit my website: www.gesangsunterrichthamburg.de